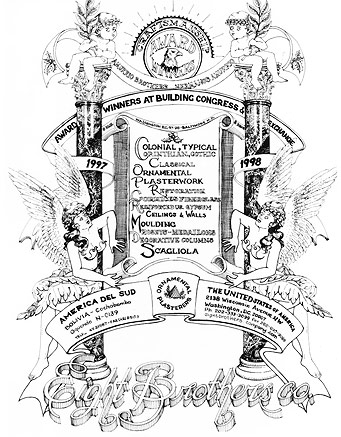 ight Brothers Development is an award-winning team of master craftsmen specialized in the restoration and conservation of ornamental plasterwork. Our work has been recognized as outstanding in craftsmanship by both the Washington Building Congress and the Building Congress & Exchange of Metropolitan Baltimore.


ur team of experts can work with any architectural design and are skilled both in fabrication and installation. We are available for historic interior or exterior restoration projects anywhere in the U.S. or abroad. Eight Brothers Company works equally well with general contractors, architects, designers, property owners or facilities managers. Our specialties include architectural plasterwork; scagliola fabrication and installation; limestone conservation, cleaning and restoration; and decorative painting.


lthough originally founded by Marcial Amurrio 59 years ago, in 1980 the Amurrio brothers started their own U.S. offshoot of the firm, and since then Eight Brothers Company has executed numerous important historic restoration projects on the East Coast. We have also built a plaster manufacturing plant producing the highest quality gypsum molding plaster. Additionally, Eight Brothers Company is now active in mold fabrication and installation of contemporary and historical recreation design for interior architectural work. Our talented team of artisans creates new crown moldings, rosettes, statues, capitals and even domes.


e take pride in our knowledge of all the most advanced techniques, kept current by our principals attending seminars at European restoration schools. Another mark of distinction is our certification by JAHN restoration materials. Last but not least, Eight Brothers Company proudly works with the highest caliber architects of the National Trust for Historic Preservation.


ight Brothers Company is a Native American-owned company, certified as a minority LSDBE. We are an equal opportunity employer, and we are always looking to train talented young people with a high school diploma or higher.